A Valentine to Frank Lloyd Wright
February 11, 2010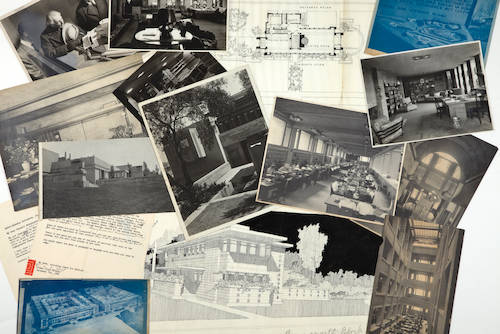 A treasure-trove of photographs, drawings, and correspondence related to publication of In the Nature of Materials, Henry Russell-Hitchcock's 1942 magnum opus on the architect Frank Lloyd Wright (1867-1959), will go to auction in San Francisco on February 14, 2010.  Auction house Bonham and Butterfield's will offer the collection as the highlight of its Rare Book and Manuscript auction.
The archive, which was organized in folders and bequeathed by Russell-Hitchcock to the seller, includes:
600 photographs of Frank Lloyd Wright's buildings and their interiors many of which are stamped "Property of F.L.L.Wright" or with a penciled notation "FLLW"
300 photographic reproductions of drawings and plans not used in In the Nature of Materials
Building plans redrawn specifically for the book's publication by members of the Taliesin Fellowship (this was a group of young architects who paid for the privilege of living and working with Wright)
7 plans and one perspective drawing in ink, pencil, and wash believed to be from Frank Lloyd Wright's hand
3 typed letters signed "Frank Lloyd Wright" or "FLLW"
Art historian Henry Russell-Hitchcock (1903-1987) intended In the Nature of Materials (published 1942 by Duell, Sloan and Pearce) as a ex post facto catalogue of the 1940 Museum of Modern Art exhibit dedicated to Wright's work. (Wright called  the exhibit "the show to end all shows.")
The purpose of both book and the exhibition, Russell-Hitchcock wrote in his preface, were one in the same:  "to display as fully as may be the architectural work and projects of Wright, with particular emphasis on the expression of the 'Nature of Materials,' the characteristic phrase Wright has selected both for the title of the exhibition and of the book."
Describing the material gathered for the book, he added "the rather complete collection of photographs and plans in whose selection Wright actively participated, together with the perspectives of many important projects, should make it widely useful.  There is in existence no other book which pretends to cover the work of Wright with comparable thoroughness."
The auction house estimates the archive will sell for $20-30,000.  ♥UPDATE:  Hammer price was $40,000 ($48,800 including buyer's premium).
Sale 17782 – Fine Books and Manuscripts, 14 Feb 2010, 220 San Bruno Avenue, San Francisco
More information from Bonham's & Butterfields, Catherine Williamson, (323) 436-5442